To add widgets to your page, start by clicking the 'Add widgets' button on the toolbar at the bottom of the screen.

The 'Add widgets' bubble will then appear, which will present options for adding content to your page.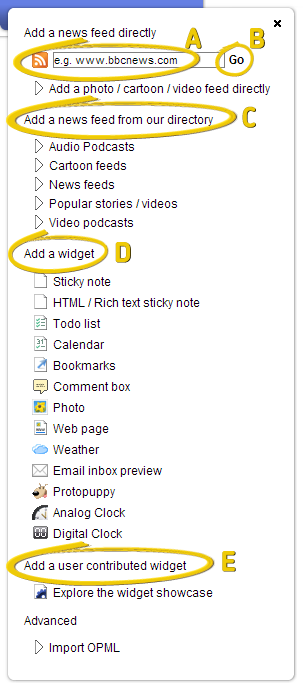 A and B: Direct news feed URL entry
If you already know the URL of a news feed you would like to add to your page, enter it into the text box and click the Go button. Protopage will then detect the 'news feed' from the URL and add it to your page. You can find out more about news feeds in the chapter '
News feed widgets
'.
C: News feed directory
You can choose from hundreds of news feeds in our directory. Just click the names of the categories and explore. If you're not sure what a news feed is yet, don't worry - just start clicking and exploring!
D: Built-in widgets
Protopage has lots of built-in widgets to boost your productivity and help you do useful things. These are covered in the chapter '
Built in widgets
'.
E: Third party widgets
You can choose from hundreds of widgets from contributers all over the world. Examples are puzzle games and quotes of the day. The widgets are categorized into different 'tags' to make it easier for you to find what you're looking for.